P400 WIRED PINPAD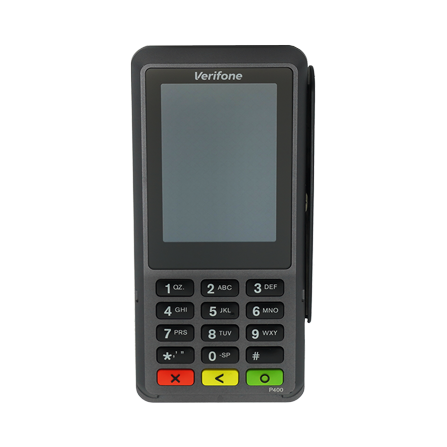 How To Perform a Debit/Credit Payment
Important Information

Each P400 Wired Pinpad includes a Serial Number located on the back side of the device.

NEW: Technical support for the P400 devices is now provided directly by Chase Paymentech instead of the Recipe IT service desk. This is the Serial Number that is used when calling Chase for all technical issues related to pinpads. You will also need your Chase Merchant ID Number which is available on your Chase statements.

Chase Paymentech's service desk number is:

1-800-265-5158
Performing a Debit/Credit Transaction

Select the items that the Guest has requested, and select the Payment Screen.

The Payment Card button will be directed to the installed Wired Pinpad.

The pinpad will begin to process the transaction and will prompt the Guest.

If a payment is not processed, the POS will show a Timeout message.

If the transaction is successful, there will be no display message on the POS, but the Pinpad will display a change.

The Micros Guest Check will print, and the check will be closed.

If the Guest requests a receipt, it can be printed on the Function Screen.
---
Printing a Receipt

Select the Function Screen.

Reprint Last Transaction

Reprint Another Transaction

Select the Reprint Receipt Button.

Note: This will print the last receipt that was generated using the P400 device only.

.

Enter in the check number to be printed.

Select the Reprint Receipt Button.

A receipt will not print if:

The P400 device was not used to process the transaction

The check number entered cannot be found

The transaction took place more than 3 days ago
Financial Management Report (FMR)

Previously, sales for Wired Pinpads would fall on the lines for each Debit/Credit provider:

The sales associated with the P400 Wired Pinpad will now fall under the PATT lines on the FMR.

The Offline FMR lines are explained in the Offline Tender Job Aid.

Old FMR Lines

New FMR Lines

Page of
August 2021 | CONFIDENTIAL & PROPRIETARY | © 2021 RECIPE Unlimited Corporation