P400 WIRED PINPAD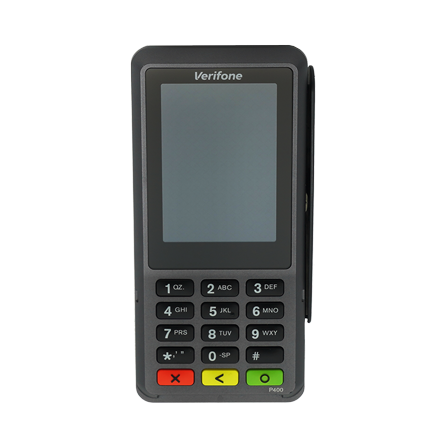 How To Perform a Device Reboot
Important Information
If the P400 Pinpad has an error message, then a reboot is a good way to begin troubleshooting. If further technical service is required, please review the new technical support notice below regarding the P400 devices.
NEW: Technical support for the P400 devices is now provided directly by Chase Paymentech instead of the Recipe IT service desk. This is the Serial Number that is used when calling Chase for all technical issues related to pinpads. You will also need your Chase Merchant ID Number which is available on your Chase statements.
Chase Paymentech's service desk number is:
1-800-265-5158
Rebooting the Pinpad

Press and hold the Red X button and the black 0 button at the same time for 3 seconds.

This will bring up the Power Panel Menu on the device.

On the Power Panel menu, press the Reboot button.

A rebooting blue screen will appear, and perform the manual reboot, which takes approximately one minute to complete.

Once the Welcome Screen returns, the pinpad can be used again.

Page of
September 2021 | CONFIDENTIAL & PROPRIETARY | © 2021 RECIPE Unlimited Corporation