Here are some helpful tips regarding the SCENE Program:
There is only one SCENE card allowed per check.  If more than one Guest would like to use their cards on the same table, the table MUST be split onto 2 separate checks using the Transfer Out button
SCENE points cannot be redeemed on Alcohol and Gift Card purchases
SCENE points can only be redeemed in multiples of $10 e.g. $10, $20, $30 (Exception: Harvey's and Swiss are now able to redeem in increments of $5 for 500 points)
A Manager must add the Bonus Offer e.g. SCENE 30x, SCENE 45x to a check BEFORE swiping a SCENE card
SCENE is available to process on the PATT device:  Click for User Guide
Note for SCENE Transactions on PATT - you are unable to VOID SCENE transactions when performed on the PATT machine.  You must call SCENE to reverse the transaction.
     6. If applying a discount to the check, it must be applied to the check before redeeming scene points
     7. SCENE base points are issued automatically upon redemption. Void the points issuance if they were              already issued and perform the redemption again.
     8. VOID Procedure:
SCENE points earned and redeemed cannot be voided AFTER checks have been closed
Highlight 'Issue Scene' or 'REDEEM Account'

Select 'PAY' button
Select 'Void SCENE' button

Swipe a manager card
Enter '000'
Select 'Enter' button
9. Program Code selection: When performing an issuance on the POS terminal, you may get a popup as shown below.  Press the number on the keypad beside the "Scene Issue" option and Enter to process.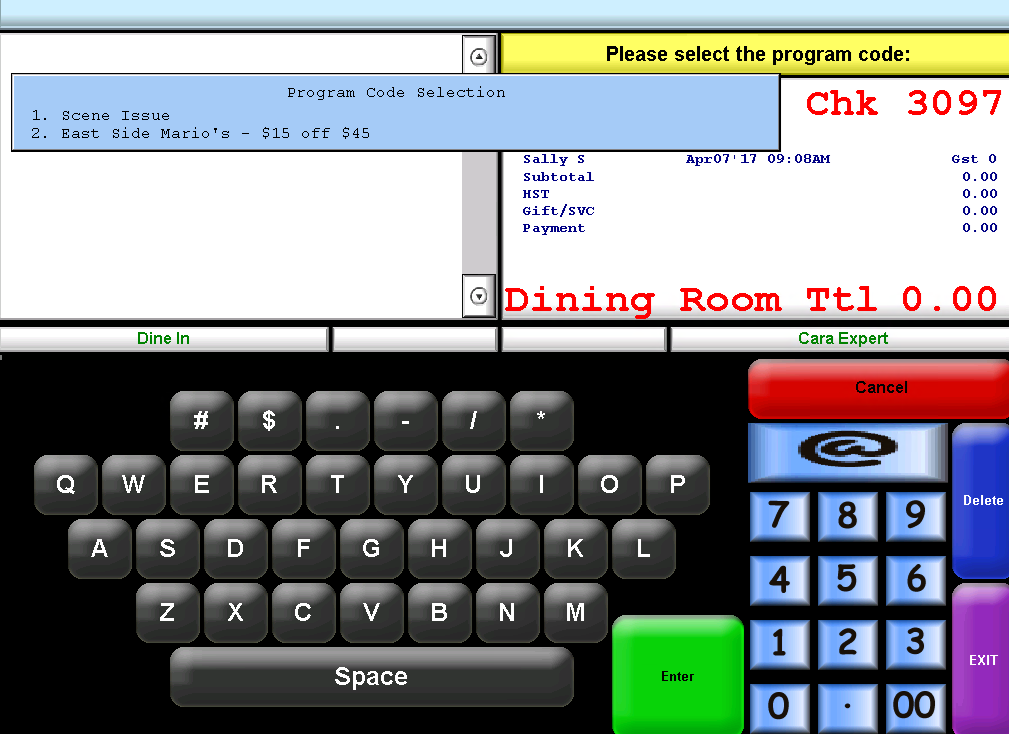 10. When and how to Contact SCENE:
 Please advise the Guest to hold onto their receipt and contact the SCENE Call Centre 1-866-586-2805 if:
Guest has forgotten their card or
Guest has any questions with regard to SCENE points being issued after their purchase or
SCENE points have not been awarded due to any technical or ops issues. If the restaurant manager wishes to contact SCENE on behalf of a Guest, ensure that a SCENE membership number is captured and the Guest receipt is obtained. Note that a guest receipt can be pulled from Electronic Journal (EJ)
A SCENE member must contact SCENE within 7 days of their visit to claim base and bonus points not earned during their transaction.  The member must provide a copy of their detailed receipt and promotional coupon (if applicable) to be eligible to claim points, receipt and coupon can be emailed to SCENE at help@scene.ca.
11.  Click for Common Error Codes: Common Error Codes